Pata Negra & Cheese canape by Simon Martin
This month, the Chef Simon Martin is sharing a lovely selection of Japan-inspired dishes with his chef's hamper containing the best of Petrossian specialities and some secret finds.
A word from the chef
Here's a very simple preparation which serves to simply enhance the mushroom and truffle undertones that Pata Negra tends to offer. Cured meat and Cheese is a can't-go-wrong classic and a great way to ease your guests into their time with you at the start of an evening, helping to relax them by providing something they're familiar with before you and their alcohol levels kick it up a notch.
Pata Negra Canapes
Preparation : 15 minutes • Cooking : 10 minutes
For 4 people
1 pack of Lomito Pata Negra
100g Tunworth Cheese (or Camembert)
40g Whole Milk
30g Double Cream
Method
Remove the rind from the cheese and dice into cubes, set in a bowl.
Bring the milk and cream up to a boil and pour into the bowl with the cheese.
Continually whisk until a smooth cream forms, place in a piping bag and leave in the fridge for an hour to set.
Pipe a generous dollop of cheese cream onto each Croustissian, then drape over a slice of the Pata Negra and serve.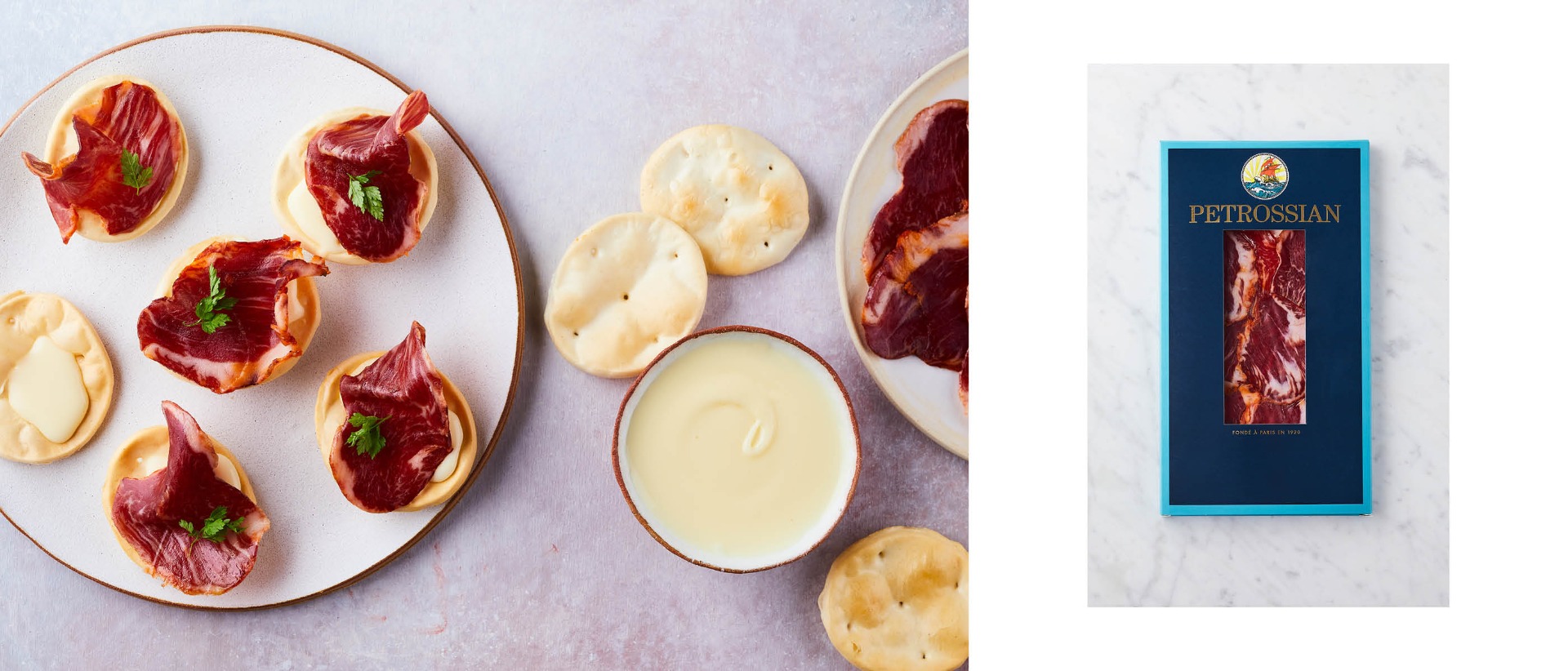 Discover 4 more Petrossian seasonal recipes by Simon Martin in our Chef's Hamper, delivered to your door in 24h and available for a limited time only! This chef's hamper is available online for a limited time only. 10% of the sales profits will be redistributed to @Hospitality Action #Coronavirus emergency appeal, supporting workers from the hospitality industry suddenly facing hardship.
Photographs: Aimery Chemin • Culinary stylism: Coralie Ferreira