Ossetra Oysters with Green Apple & Hazelnut Garnish
Wow your guests with this caviar starter at your next festive meal. Oyster, apple and hazelnut make a harmonious accompaniment to Ossetra caviar, which comes in a limited edition vintage box reissued to celebrate Petrossian's 100th anniversary.
Top tip: Prepare the hazelnuts and green apple garnish in advance, leaving the apple to marinate in the fragrant lime juice, then plate up this divine Christmas starter at the last minute.
Preparation: 20 minutes • Cooking: 5 minutes
Ingredients for 6 oysters
Method
Toast the roughly chopped hazelnuts in a dry frying pan without fat. As soon as they begin to turn golden brown, remove from heat and let them cool.
Zest and juice the lime.
Peel and finely dice the apple, sprinkle with lime juice, and drizzle with olive oil. Mix so the apple is well covered, and set aside in the fridge.
Open the oysters, drain the 'first water' and set aside in a cool place.
To serve, garnish each oyster with a spoonful of green apple, a good scoop of Ossetra caviar, and a smattering of crushed hazelnuts, then sprinkle with lime zest.
Decorate with aromatic herbs or sprigs as desired.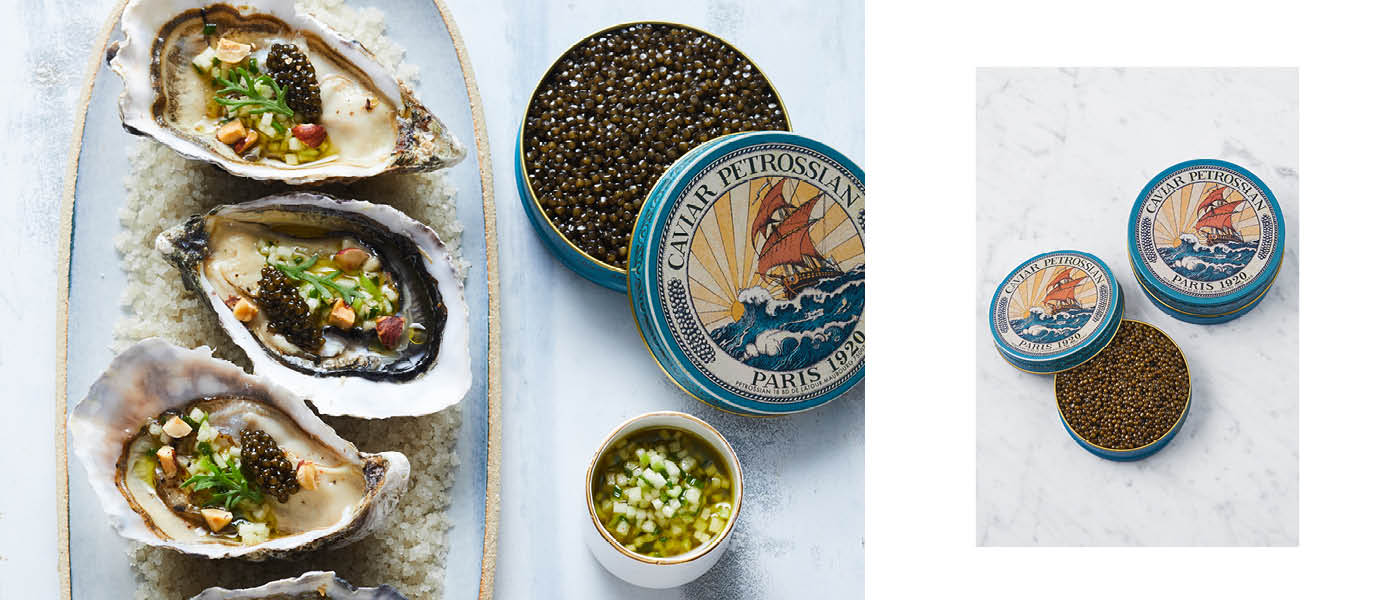 Why Ossetra caviar?
Ossetra Tsar Impérial® caviar is super-versatile and it's the ideal caviar for this recipe. Its complex aromatic notes conjure up hazelnuts and iodine, setting off the other ingredients in this Christmas appetiser to perfection. The large, firm grains give off an amber glow, their melt-in-the-mouth texture weaving together beautifully with the flavour of the oyster.
If you want to bring out the oyster's sea flavour, you could also try this recipe with Baeri Baïka® Caviar, an especially briny variety.
Photographs: Aimery Chemin • Culinary stylism: Coralie Ferreira