The famous Fried Chicken Caviar recipe by FTG
Grégory Marchand reveals the Fried Chicken Caviar recipe he served a few months ago at FTG, his fastfood place. Caviar & fried chicken with Frenchie sauce, a real street-food dish to cook and enjoy at home.
For this version of fried chicken, French chef Grégory Marchand has chosen Ossetra caviar. Its Its aromatic complexity goes superbly with the fried chicken spices.
Fried Chicken Caviar by FTG
Serves 4
2 boneless chicken thigh fillets halved, and two chicken breasts halved (approx. 600 g to 700 g)
Crème fraîche (optional)
For the breadcrumbs
500 g plain flour
5 g Petrossian ground black pepper
30 g paprika
5 g dried oregano (or herbes de Provence)
1 g Espelette pepper (or another chilli of your choice)
4 g garlic powder
A pinch cayenne pepper (optional)
For the marinade
1 litre buttermilk
30 g Dijon mustard
15 g fine salt
5 g Tabasco sauce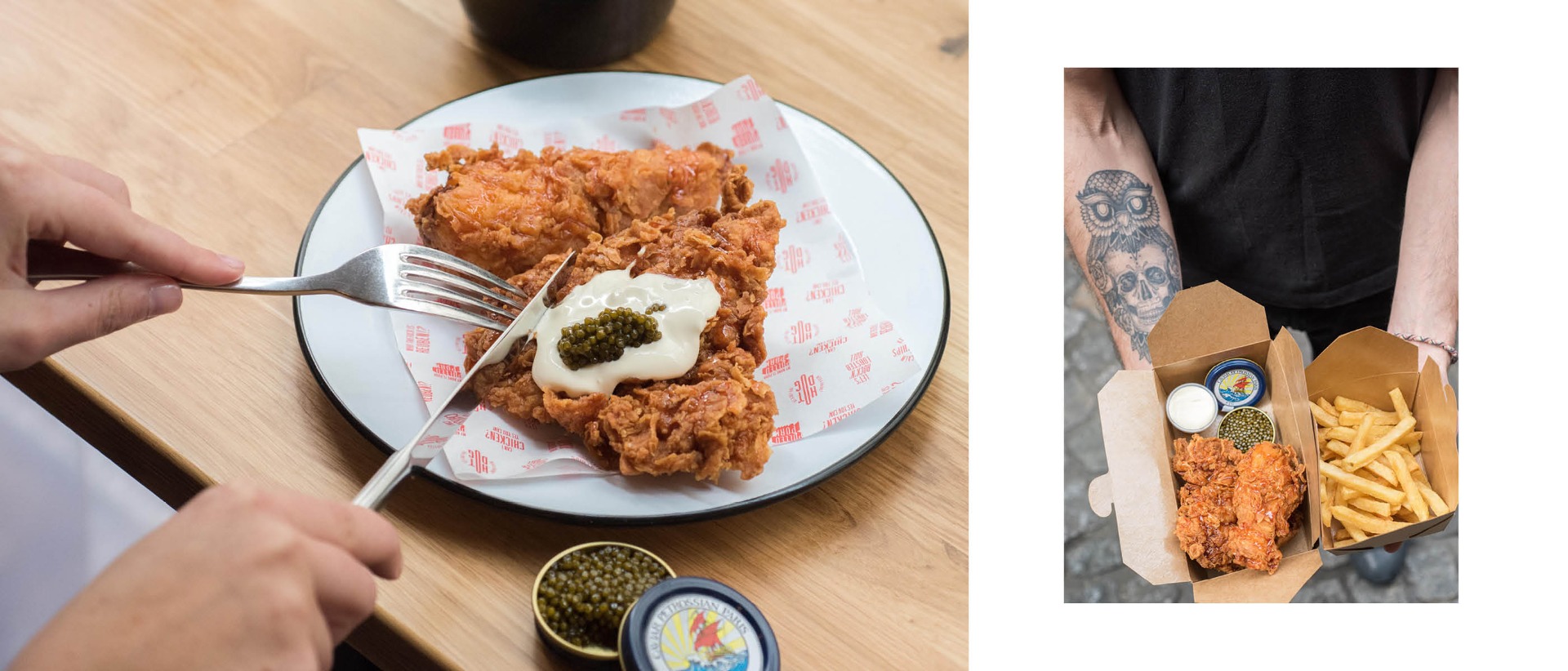 Method
For the marinade
Mix the buttermilk, Dijon mustard,

Petrossian ground black pepper

, salt and Tabasco.
Dip the chicken pieces in the mixture and leave to marinade for at least 24 hours in the fridge.
For the breadcrumbs
Mix the flour, Petrossian smoked fleur de sel, Petrossian ground black pepper, paprika, dried oregano, Espelette pepper, powdered garlic and cayenne pepper (optional).
Roll the chicken pieces (without rinsing them first) in this mixture. Soak them in the buttermilk, then roll them again in the mixture.
Cooking and serving
Fry the chicken pieces in oil at 150-160 degrees for about ten minutes, making sure that the breadcrumb doesn't burn.
Place the chicken pieces on four plates.
Serve the chicken with a few generous spoons of Petrossian Ossetra caviar and crème fraîche (optional) for a little freshness and a unique iodized flavour.
Photographs : Géraldine Martens